Test out your foot pedal with our 7 second FTR recording
(You will need to "save link as" and place on your desktop. Then, open the file with your FTR Player.)

Sample Audio Recording
Best Practices Guide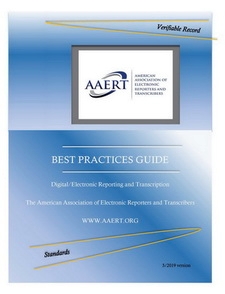 The AAERT Best Practices Guide contains federal transcription requirements, provides specific examples and solutions for problem situations.

Learn More
You can use the following partial list, however, to view brief samples of the format's primary elements, drawn from several different cases for illustrative purposes here.
Below are WORD and PDF files to assist you in preparing for the exams.
---
Sample Questions for our AAERT Online Exams

The above audio sample question is shown here only for reference of how the question will appear on your screen when taking the exam. The Audio icons above would work in a normal situation, but as this is only a snapshot of what the exam will look like, the audio icons are not operational in this sample question.
You may hear the audio response related to this question if you have speakers/audio capabilities on your computer and a program to play the linked MP3 file.
---
---
Practice Sample Transcript
Test your skills. We have provided you with practice audio below, along with the required documents. This practice audio is a 2-channel recording. In an AAERT test situation, there will be 4-channel audio. After you have tested your transcription skills, you can then download the KEY/Final Transcript so you can compare your transcript with the Key/Final Transcript. (Yellow highlighted areas in the transcript represent that either/or is acceptable.)
Case Information Record-Scalini

Log Notes-Scalini

Audio Files-Scalini

Zip file: Open File,
Save to Desktop, "Open With" your FTR Player to play audio and start transcribing. Remember, for test purposes, you will be scored on the use of federal formatting.